Rich Rawling is a graphic designer in print and digital media. He graduated with a B.A. in Fine Art from the University of Waterloo. He is currently based in Squamish, BC.
Rich paints in watercolour, pastel, and graphite in studio, on the road, and sometimes balanced on a mossy log over an algae-covered swamp. Subject matter is found in Sea-to-Sky country, along the Vancouver waterfront, and while leaning against his touring bicycle in Europe, Asia, and Africa.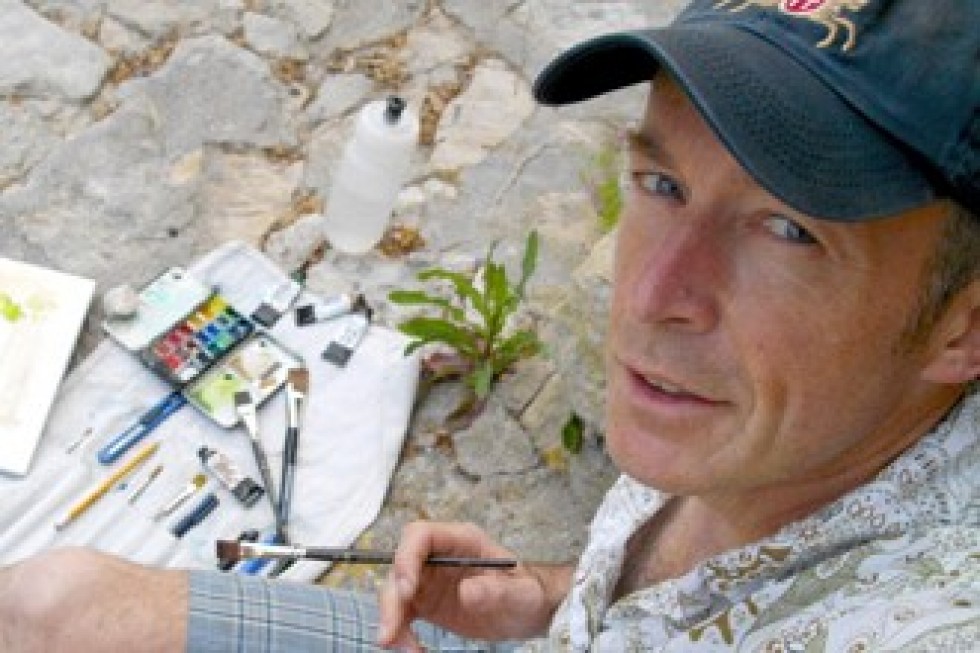 Rich recently returned from a bicycle tour in Burma (Myanmar) during which he photographed the colourful wooden boats that ferry families across the Yangon River: Functional, sleek, and, like so many things in Burma, the boats seemed ready to fall apart at any moment. But they just keep going. When he returned to Canada the photos proved to be great reference material for warm, loose paintings.
The very wise and powerful Jack Donaghy once stated that the only appropriate subjects for a painting are:
1) The horse;
2) Ships with sails;
3) A man holding a sword while gazing into the distance.
Rich hasn't succeeded in satisfying Donaghy's parameters just yet, but he may be close. he can claim to depict a man or woman (your choice) holding an oar while standing in a boat. Rich will keep trying.
Unless otherwise noted Rich's paintings are 'float' mounted in white, contemporary frames. The float mounting exposes the interesting edges of the watercolour paper, typically Arches 140-lb or 300-lb cold-press cotton paper. The paper is mounted to acid-free substrate. They are framed behind standard glass.